Step Into Style - Stair Lighting
Stairs are often overlooked, in design as well as in everyday use. That mere misstep can often result in quite a hazard. The design and construction of a step can range from simple to extravagant, functional to avant-garde. A single step can help one easily transition the slightest elevation change, whereas the combination and arrangement of several steps into a staircase can provide connection and feelings of grandeur.
Ample thought and consideration should be given to the structural, elemental, and finish details of stairs according to their placement, function, and appeal. The same amount of consideration and care should be provided in the lighting of stairs to complement and enhance the design, as well as to improve safe passage. Below are some of the many examples of how to achieve this.
From Above
Recessed
Tried and true, recessed downlights or "can lights" provide good general light directly below the light source. Where the ceiling conditions allow, typically at stair landings, a recessed light source is a good way to get a large amount of light on the stair surface below. Be careful of using this approach in tight, darkly finished stairwells to avoid a cave-like effect.
It can be fun and exciting to mimic the transitions of the stair with light from above. For finished ceilings, recessed patterned linear lighting can run centrally above the stair below to provide uniform light levels along every step.
Structural

If there are stairs above and the stair construction is open or exposed, the stair stringers can be used to conceal or mount linear or adjustable point source fixtures. This lighting technique can add an element of surprise while providing ample light to the sloped stair surfaces below.
Decorative
Large open stairwells lend themselves extremely well to focal lighting pieces such as chandeliers or oversized pendants. It is important to consider the quantity and quality of light provided by this type of decorative lighting element as supplemental lighting will be likely required to effectively light the stair surfaces.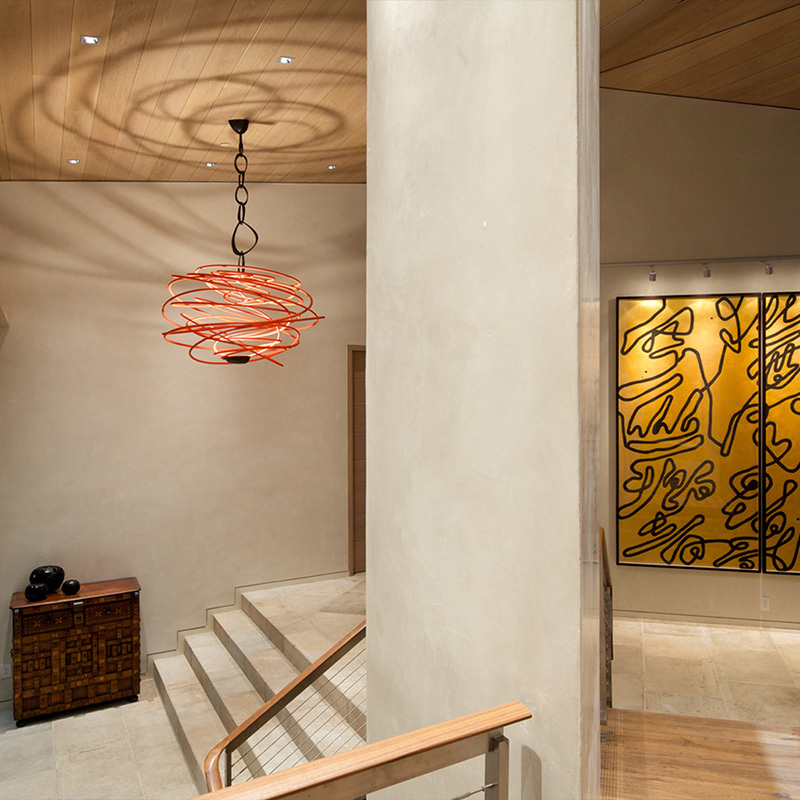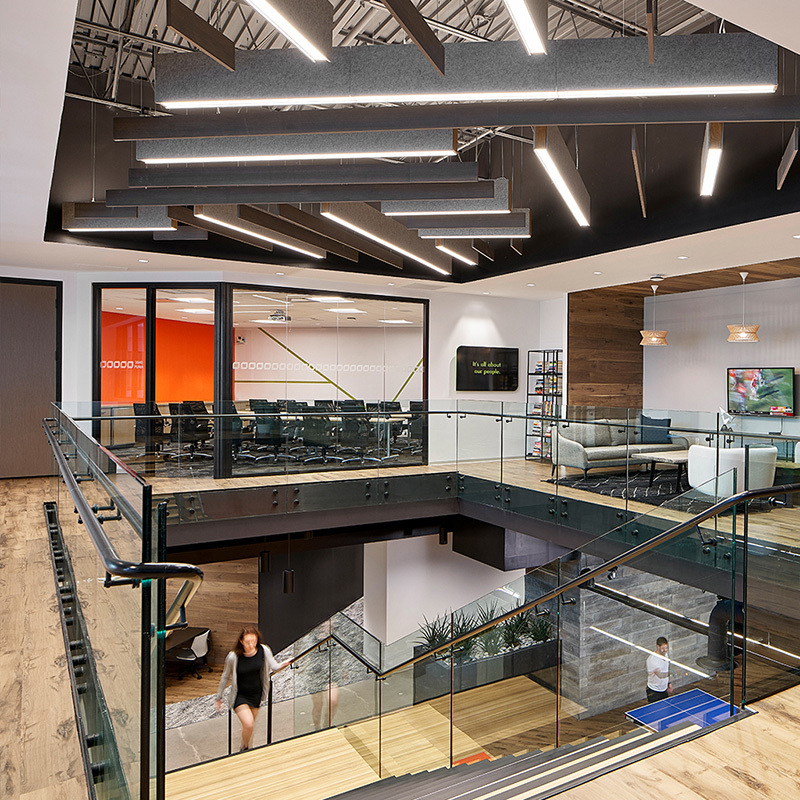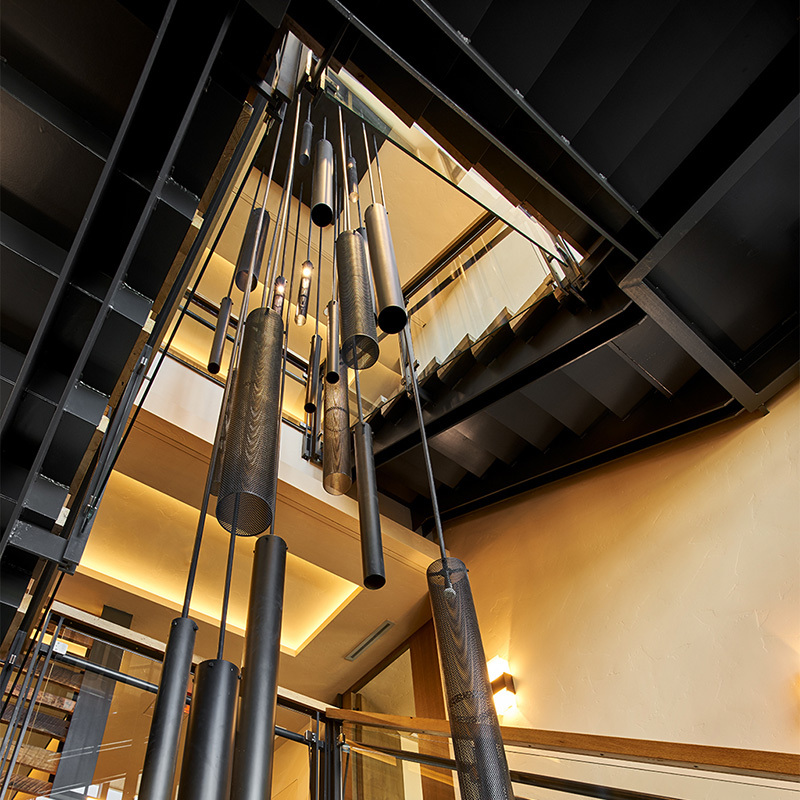 At The Wall
Steplights
Commonly used, small round or square trimmed fixtures are mounted a couple feet above the top of the stair along an adjacent wall. These types of fixtures are extremely popular, flexible, and low key. Lighting is directed just where you need it, limiting glare to the user during ascent. Understanding spacing and placement is critical to determining the quantity of fixtures that will be required to evenly light the entire stair section.
A cleaner aesthetic to the surface mount version, recessed step lights are either provided with a decorative trim or installed into a drywall surface and mudded over to appear trimless. The aperture of the light varies from small and barely seen to architecturally scaled or shaped. The options are ample, and equally tasteful.
Linear
Clean lines of light that follow the architectural form of the stair engage the user and provide a dramatic visual effect, as well as provide consistent lighting along the rise and run of the stairs it follows.
Decorative
Wall surface sconces can provide an aesthetic finishing touch to enclosed stairwells, as well as provide added illumination at the vertical surfaces and make the typically tight space perceptibly larger.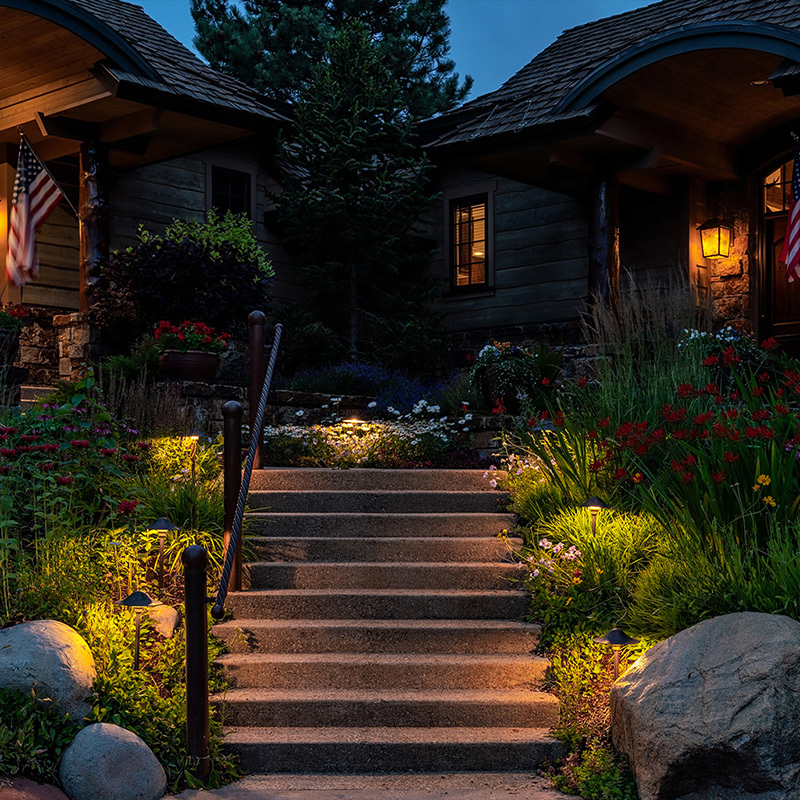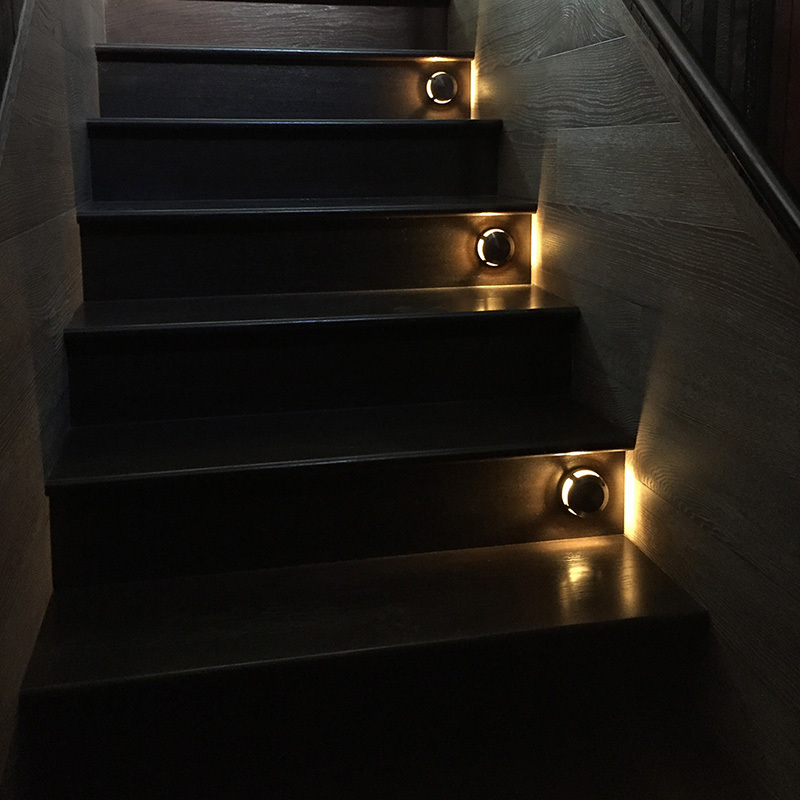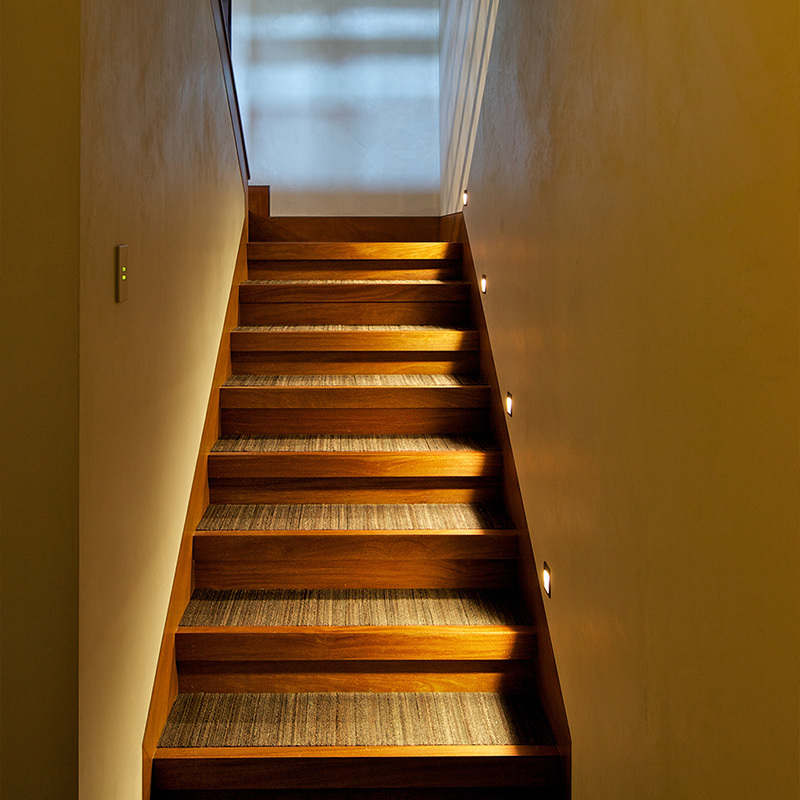 WITHIN THE HANDRAIL
The handrail provides for an amazing integrated lighting opportunity. Several types of integrated light fixtures are available that integrate within the handrail itself or into the posts of a guardrail. Choose from minimal LED point source, linear, or post accent light fixtures.
STAIR INTEGRATED
Who would have thought… lighting the stairs using the stairs themselves? Consider whether a direct view accent or subtle ambient style of light is desired for the application.
Concealed under tread lighting is achieved using a slim extrusion inserted with a low voltage linear LED tape light that is applied underneath and within an architectural niche. The result is a soft layered lighting effect that emphasizes the architecture of each individual step.
Capped edge light fixtures are available with direct view linear lighting at the nose edge coupled with an indirect linear light to wash the riser and step below. This type of fixture is multipurpose in providing lighting in addition to protecting the edge of the step, and preventing tripping or slipping on the stair surface. An excellent choice in outdoor weathered applications.
ARTWORK & SCULPTURAL
Spiral staircases and floating stairs are amplified by uplights. Playful shadows and architectural highlights make these unique sculptural staircases the focal point of the space.
Minimal recessed point source marker lighting in the face of the stair risers provide a dramatic accent and promotes wayfinding.
Stairwells are typically an extension of an avid art collector's gallery walls; while for the average homeowner, they can serve to chronologically organize family memories and treasured art. Surface track, monopoint, and recessed adjustable lighting types can provide the flexibility required to adequately light these prized pieces and bring them to life.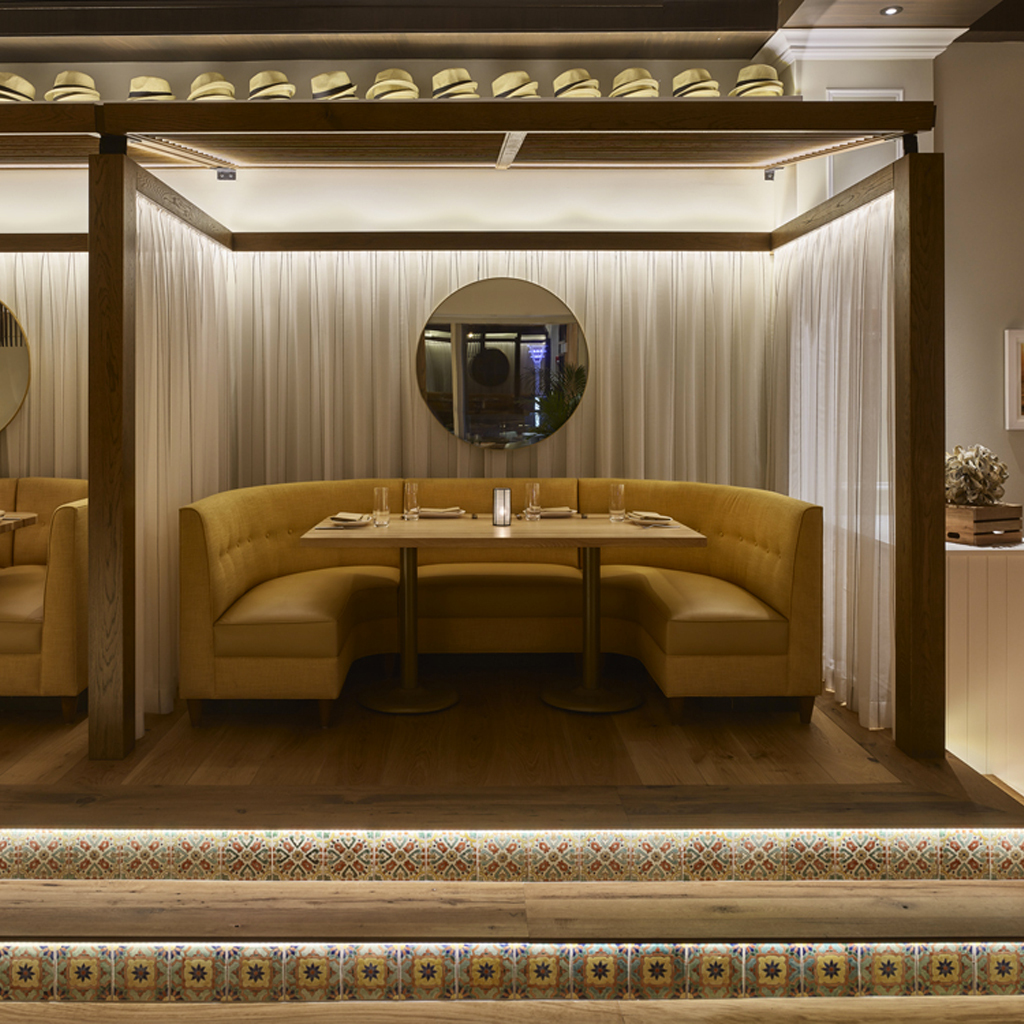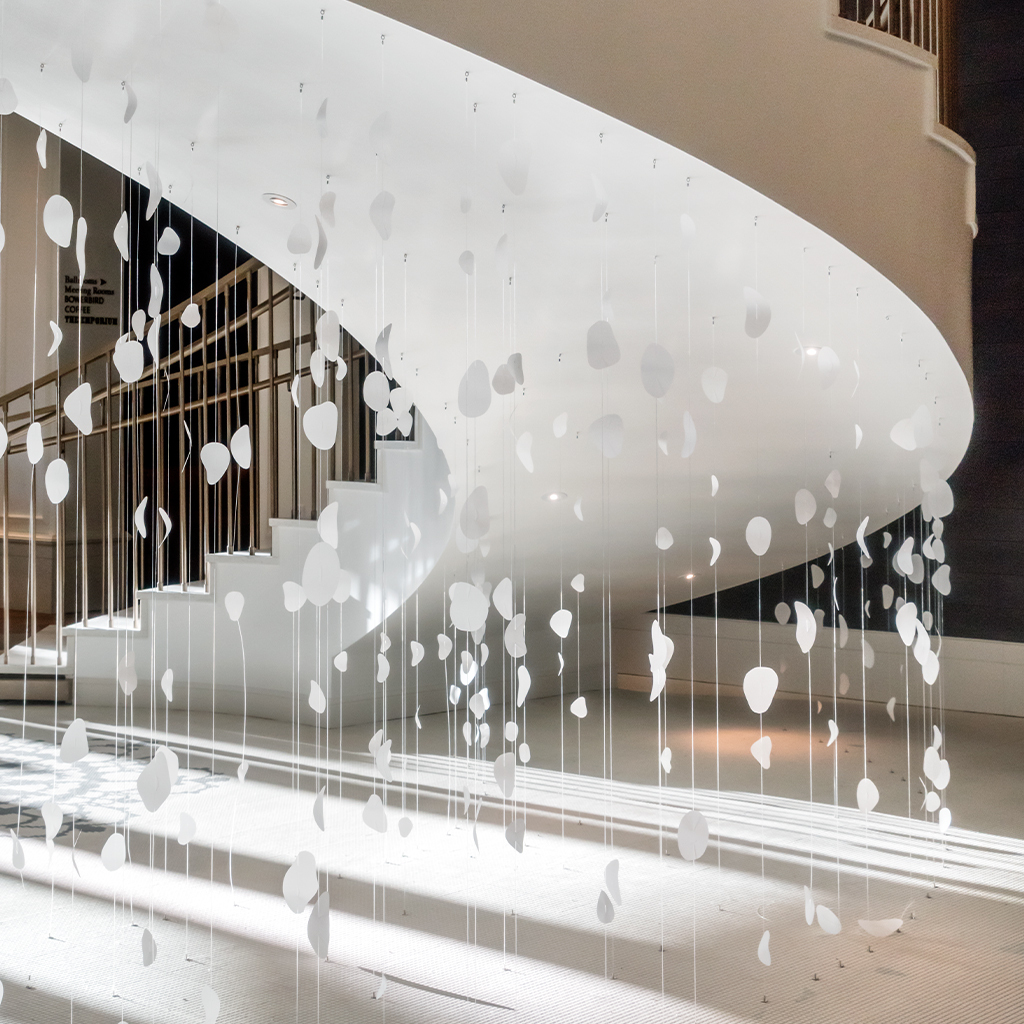 As one of the most important architectural features in many projects, stairs are an incredibly important lighting opportunity aesthetically, functionally and for safety. We love the challenges of stair lighting - most of the time we observe ceilings in spaces but as design changes we find ourselves looking down. Thanks for stepping into style with us, later lighting nerds!